One-stop art transport and museum service
hs art service austria is one of the leading international art transport companies. The hs art service austria group works globally with the best-known museums, art galleries and art collections, and manages art transportion of all sizes, from art packaging and transport to installation in exhibition rooms. As a transport company for art and culture, diligence and safety are as our top priorities. Your artworks and transportation goods are always in the best hands with us.
The art of transportation
hs art service austria is a member of ARTIM, a global network of art transport companies committed to the highest quality, most state-of-the-art safety measures, and individual client support. We are an official IATA agent and an authorized representative. Additionally, hs art service austria is certified in accordance with the EN 16648:2015 "Conservation of cultural heritage – Transport methods" standard. As your art transport company, we guarantee the fulfillment of the highest standards in all transportation, storage and packaging steps, ranging from classic museum and exhibition services to complex specialised transportation.
We transport value
The hs art service austria group has many decades of experience in handling sensitive transportation goods. Our company is a full-service provider in the following areas:
Art transport and exhibition logistics
Our specialised vehicle fleet lays the foundation for ideal and comprehensive transportation solutions across Europe, even for special goods.
Special packaging
There are no run-of-the-mill solutions for artworks, only tailor-made systems and techniques fitted exactly to the goods that require packaging.

Art storage and customs bonded warehouse


Your transport company for art and culture stores works of arts as well as sensitive transportation goods under the best conditions. Utmost safety and full discretion go without saying.
Handling of customs formalities
Customs dealings can be an exhausting, uncomfortable and costly matter. hs art service austria takes care of everything with the Austrian customs authority.

Museum and Exhibition Service
From conceptual design and planning to installation, and handling and assembly to providing equipment – get everything you need for trade shows, exhibitions, and presentations from us.

Full service for art trade shows
Are you looking for the ideal concept for your next trade show? Are you looking for an experienced partner to handle everything? hs art service austria brings decades of experience to the table.
Moving and relocation service
From A to B in no time at all – we take on moving tasks for museums, galleries and private individuals, including planning and execution.

hs art design
Aesthetics and functionality have a name: hs art design. Discover our elegant design ideas! Production after client request is possible on inquiry.
Current References
Persistent Antagonism, Louise Bourgeois

22.09.2023 - 28.01.2024

Belvedere Museum Vienna

RENDEZ-VOUS Picasso, Chagall, Klein und ihre Zeit

06.05.2023 - 29.10.2023

Heidi Horten Collection, Vienna

Raphael. Gold & Silk

26.09.2023 - 14.01.2024

Kunsthistorisches Museum Wien

Josef Hoffmann - Falling for Beauty

06.10.2023 - 14.04.2024

Art & History Museum, Brussels

Maria Lassnig, Happy Martian

02.09.2023 - 07.01.2024

UCCA Center for Contemporary Art

Renate Bertlmann, Fragile Obsessions

29.09.2023 - 03.03.2024

Belvedere Museum Vienna

Maria Bartuszová

21.07.2023 - 07.01.2024

Museum der Moderne, Salzburg

Science Fiction - If there were a tomorrow

30.03.2023 - 09.01.2024

Weltmuseum, Vienna

Eduardo Chillida. Gravitation

29.04.2023 - 24.09.2023

Kunsthalle Krems
Vienna's new Fine Art Warehouse
hs art service austria has extended its art competence center by a new high-tech fine art warehouse. Built to the very latest standards. Read more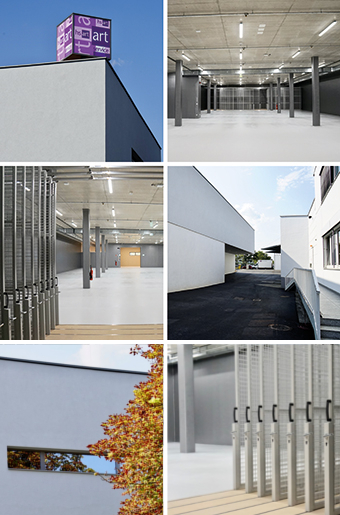 Make a consultation appointment now!
Are you interested in our transportation service, would like to store art goods, or looking for planning and conceptual support for your next exhibition? Get in touch with our art professionals today – we are looking forward to helping you!